Introducing: The MOA Square, an area near the MOA South Parking Building and the MOA Arena where homegrown restaurants and trending cafés are located! Visit it after a long day at work, while waiting for the concert of your favorite artist, or when you're done shopping—you'll surely find something good to eat and come back again. For real!
Mendokoro Ramenba
Photos from Mendokoro Philippines
Now with five branches that have all received massive success as seen on the super long lines, the cult-favorite Mendokoro Ramenba is called the *best* ramen bar in Manila according to most food bloggers.
Photos from Mendokoro Philippines
You'll understand the hype once you try their bestselling Ramen Rushoken or Ramenba's Miso (paired with their crispy Chicken Karaage for a full meal!).
Ikinari Steak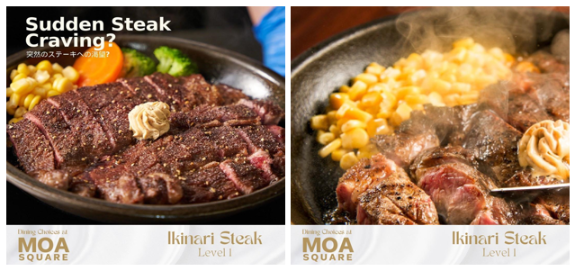 Photos from Ikinari Steak Philippines
So many steak restaurants have come and gone but there's a reason why Ikinari Steak continues to thrive. As Japan's biggest fast steak chain (the first branch in Southeast Asia is at the MOA Square!), it has a relaxed and casual ambiance, and it serves certified Angus beef minus the hefty price. In short, you can enjoy their signature Ribeye, juicy Assorted Cuts, and underrated Hamburg Steak without the need for you to dress up!
CIBO
CIBO is a favorite among foodies who love a simple yet flavorful plate of pasta. Whether it's oil-based, cooked with tomatoes, or made with pesto, any noodle dish from this modern Italian caffé-paninoteca can easily inch its way to your comfort food list.
NGL, it's not just the pasta we can't get enough of—CIBO's oval-shaped pizzas and hearty soups also live rent-free in our heads!
One World Deli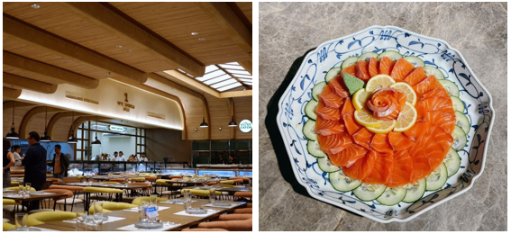 Elevate your idea of premium ingredients at One World Deli, a dining and café space that allows you to pick your choice of meat or seafood and have them cooked by a chef. On the go? Grab their hot meals, handcrafted ice cream, and freshly baked pastries for a quick bite.
You can also stock up on your cured meats, fruits, and greens here, as well as sample new reds through their extensive wine collection.
Yardstick Coffee
Yardstick takes pride in coffee being their love language so best believe that whatever you order is going to be great! Start your day with a cup of their Long Black or try the bestselling Sea Salt Latte. A pro tip: Order the Manilla Latte, an item on Yardstick's menu that you can only find at the MOA Square.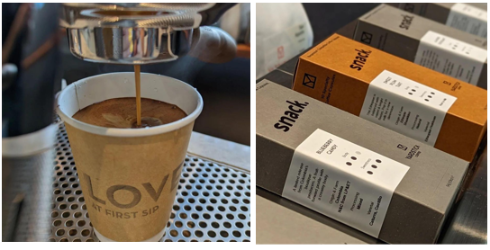 It's espresso mixed with a pineapple slushie, which, yes, may sound a bit odd, but trust us, it's a grower!
Shaka Café
Photos from Shaka Cafe
Swing by Shaka Café if you're looking for 1.) Vegan options that are guilt-free and tasty. 2.) A chill place where you can unwind. Their dishes are healthy alternatives to your sudden cravings such as the Sloppy Jose, Smoky Nachos, and Pad Thai. In the mood for a smoothie bowl? Shaka Café has a variety of puréed goodness to choose from!
Auro Chocolate Café
Repeat after us: Chocolate is always a good idea! Treat yourself to an afternoon snack in this chocolate-brand-turned-coffee shop and get a taste of the quality ingredients in every bite. We reco the Classic Dark Choc Au Lait with the Sourdough Pan De Tsokolate stuffed with tinapang bangus and salted egg aioli. Don't forget to take home any of their Classic Chocolate Bars!
Single Origin
End your work week on a happy note at Single Origin. Although it's a go-to place for specialty coffee and brunch specialties, you'll be surprised to know that the casual dining café also offers crafted cocktails! Invite your friends and enjoy the refreshing flavors of their Tom Collins, Strawberry Rum Cooler, and Cherry Crush. Happy weekend!