What started as a foodie trend a few years back has become a staple in Pinoy culture. Milk tea, the much-loved beverage, is clearly here to stay, with the numerous chains that have existed for years—and thrived even in the midst of a pandemic—as well as the new shops that have opened recently. Over the years, countless variations and flavors have come up on milk tea shops' menus, and it has become more difficult (in a good way) to choose just one drink out of all the choices available.
Here's something else we're sure will be difficult: practicing self-control when faced with your favorite milk tea treats at the SM Milk Tea Festival, happening this July 19 to 31, 2021 at SM Supermalls! Here, you and your fellow milk tea addicts can get first dibs on limited edition drinks and special deals, shop bubble tea collectibles and merch, get access to fun contests and digital promos, and basically have a tea-riffic time!

In the meantime, do check out our suggestions on which milk tea best suits your Zodiac sign—so you can be ready with your pick when you come out to par-tea with SM this month.
Aries (March 21 – April 19)
Self-assured, straightforward, competitive—a true-blue Ram is not one to back down from any challenge. That being said, nothing suits you more than a drink that's bolder than most. Check out Chatime's Roasted Milk Tea, which features a strong, full-bodied blend complemented by a hint of sweetness from the milk. It doesn't come with toppings by default, which we think is perfect for someone who always has his or her sights on the next big win. Ain't nobody got time to chew 'em pearls; let's get things done is the way of the Aries.
(Image from Chatime.com)
Where to get: SM City East Ortigas, SM City Lipa, SM City Fairview, SM City North EDSA, SM City Pampanga. Check out the SM Mall Directory for more branches.
Taurus (April 20 – May 20)
The Taurus is steady and persevering but is also occasionally stubborn. You're not only after achieving results or seeing things through the end—you genuinely enjoy the process. If you're looking for a cup to sip while watching a ridiculously long series that you want to finally finish this weekend, look no further than The Alley's Trio Milk Tea. This drink has a sweet, almost caramel hint to it that makes it comforting. It comes with rainbow jelly, pineapple jelly, and tapioca to tickle your penchant for all things aesthetic.
(Image from Instagram.com/thealleyphilippinesofficial)
Where to get: SM City Manila
Gemini (May 21 – June 20)
Geminis are highly adaptable beings: You're either the life of the party or you're easily pulled into thoughtful conversations. You also have a tendency to multitask, only to turn your attention to what seems to be a potential new hobby. Satisfy your curiosity in one go with 2 Ladies from CoCo Fresh Tea & Juice. While the name is coincidentally a nod to the Twins, it's actually named as such because of the toppings included in the drink. CoCo's milky-sweet black milk tea is taken up a notch thanks to the silky, custardy pudding and chewy black pearls.
(Image from Coco-tea.ph)
Where to get: SM City Sta. Mesa, SM City North EDSA, SM City Dasmariñas, SM City Sucat, SM Megamall. Click here for more branches.
Cancer (June 21 – July 22)
You're sensitive not just to your needs but also what others are going through; we wouldn't be surprised if you've lost track of the many times people have been fascinated by how easily you get them. Sentimentality is also a thing with people under this sign, and if you're looking for a beverage that will usher in some good memories, go for Gong Cha's House Special Milk Earl Grey Tea. It is a robust black tea with a subtle complexity tempered by its floral notes and its thick cream topper.
(Image from GongCha.ph)
Where to get: SM Savemore Tacloban, SM City Valenzuela, SM City Cabanatuan, SM City Trece Martires, SM Aura Premier. Click here for more branches.
Leo (July 23 – August 22)
If there's a spotlight, a Leo is probably under it. And what better way to match the confidence that you possess than to have a drink that's as out there? Check out the 3-in-1 Milk Tea at One Zo, where you can select the handmade flavored pearls to go along with your drink. Apart from the usual brown sugar, you can also have strawberry, matcha, taro, or mango pearls. It's a vibrant, colorful cup that perfectly matches the Lion's vivacious personality!
(Image from Instagram.com/onezo_ph)
Virgo (August 23 – September 22)
Virgos are known to strive for perfection and have high standards. In organizing things alone, you've probably come up with your own decluttering ways long before "spark joy" was a thing. That said, Tiger Sugar's Tiger Cheese Mousse Black Tea Latte Boba will satisfy your love for details. As the name suggests, this mellow black tea-based beverage is prepared with creamy milk and tiger cream cheese as well as chewy boba. It's a great medley of flavors and textures in one go!
(Image from Instagram.com/tigersugarphilippines)
Where to get: SM City North EDSA, SM Aura Premier, SM Southmall, SM Mall of Asia, SM Megamall, SM City Baguio.
Libra (September 23 – October 22)
Harmony and balance are important to you, and those are things you could also get in milk tea form. On your next milk tea run, why not order Red Bean and Pudding Milk Tea from Macao Imperial Tea? The two sinkers are usually found in Asian iced desserts but their own flavors shine more when combined with creamy milk tea. It's a must-try for the logical yet open-minded Libra.
(Image from Order.fredleygroup.com)
Where to get: SM City Dasmariñas, SM Lanang Premier, SM City Naga, SM City Telabastagan, SM City Valenzuela. Click here for more branches.
Festival at SM, Milk Tea Fest at SM Supermalls, Milk Tea Festival at SM Supermalls, Macao Imperial Tea
Scorpio (October 23 – November 21)
Scorpios are born to rule, and that comes as no surprise. After all, it's easy to take the lead of someone enigmatic, strategic, and passionate. Serenitea's Taho Milk Tea makes for a great drink for the fearlessly curious Scorpio. Silky taho and milk tea may make for an unlikely combination, but it works wonderfully as a decadent treat at the end of a long day.
(Image from Instagram.com/iloveserenitea)

Where to get: SM City Legazpi, SM Megamall, SM Lanang Premier, SM Southmall, SM City Dasmariñas. Click here for more branches.
Sagittarius (November 22 – December 21)
A curious wanderer like you would find Happy Lemon's Creamy Baby a must-try. There's a lot going on in the drink—from the milk tea base with Oreos to the brand's signature rock-salt-and-cheese topping that's piled on cookies-and-cream crumbs. With the different textures and tastes in every sip, there's no way an archer would get bored with this beverage.
(Image from Facebook.com/HappyLemonPh)
Where to get: SM Mall of Asia, SM City Davao, SM City Fairview, SM Megamall, SM Lanang Premier, SM City North EDSA.
Capricorn (December 22 – January 19)
The Capricorn is all about structure and systems. You're a go-getter whose dreams are anchored on some serious goal-setting methods, and leadership isn't daunting for you at all. Treat your hard-working self with Dakasi's Charcoal Roasted Milk Tea. It has a bolder flavor than the usual milk teas out there thanks to the use of barley tea—a great pick for the times you're mapping out your exciting plans.
(Image from Facebook.com/DakasiPH)
Where to get: SM City Lipa, SM City Baliwag, SMDC Strip at Shore, SM City Olongapo Central, SM City Fairview. Click here for more branches.
Aquarius (January 20 – February 18)
Strong and independent? That's an Aquarius for you. You're also known to be assertive and have the tendency to bend the rules a little, and that's why Cobo's Cheesecake Graham should be your next milk tea order! It's one of the unique drinks out there—it almost crosses dessert territory with the generous helping of cheesecake and the crushed graham topper that blend really well with their robust milk tea base.
(Image from Facebook.com/awesomecobo)
Pisces (February 19 – March 20)
The last sign of the Zodiac is usually described as the most imaginative and romantic of the bunch. How about treating yourself to a dreamy drink that goes beyond the typically sweet? The Taro Green Tea Latte from Yi Fang Taiwan Fruit Tea will definitely appeal to your creative side, as you get green tea, mashed taro, cream, and milk in one serving. The play of textures is something you wouldn't want to miss!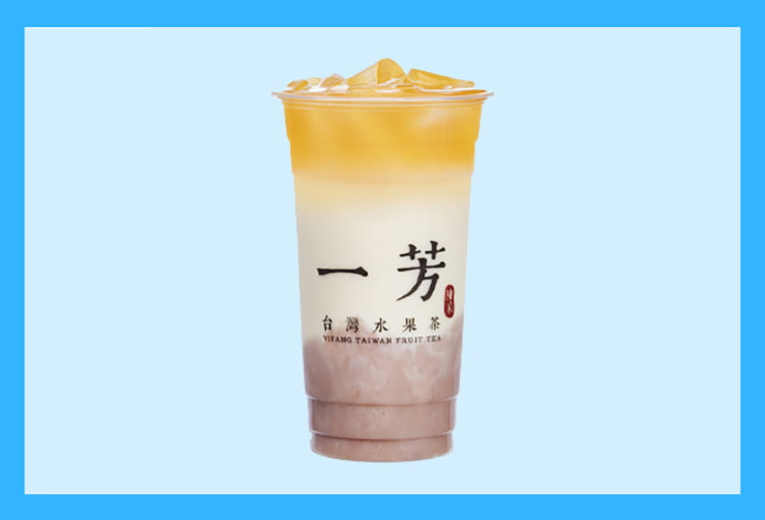 (Image from Order.yifangtea.com.ph)
Now that you know the beverage you should try depending on your Zodiac sign, it's time to get your milk tea fix, stat. Don't miss this awesome opportuni-tea to check out the SM Milk Tea Festival happening at the SM Mall near you!
Rate this article