SM Supermalls has recently garnered awards from esteemed recognition platforms for its impactful endeavors that enhance the well-being of Filipinos, including the Asia CEO Awards, Healthy Pilipinas Awards for Partners by the Department of Health (DOH), and the 2023 Dragons of Asia Awards.
Asia CEO Awards
SM Supermalls was recently awarded by the Asia CEO Awards as part of the Circle of Excellence for Top Employer of the Year 2023 during the Gala Night held on October 24 at the Manila Marriott Grand Ballroom. Since 2010, the Asia CEO Awards has been recognizing notable companies and leaders for their contributions in building the nation.
SM Supermalls successfully steered back to business growth this year after emerging stronger in an industry heavily impacted by the pandemic. A critical factor in achieving this is the company's employee experience transformation program, which touches on the various stages of the employee journey from attraction, development, and engagement. Targeted people programs gave employees opportunities to learn new skills, grow their careers, and give back to communities, while contributing to business growth. These efforts yielded desired results for the company, including a strong retention trend year-on-year since 2019.
(L-R): Vice President for Mall Operations Junias Eusebio, Assistant Vice President for Human Resources (HR) Joseph Anthony Rodriguez, Senior Assistant Vice President for Mall Operations Jocelyn Lapid-Carino, Senior Assistant Vice President for Mall Operations Johanna Melissa Rupisan, Vice President for HR Cheryll Agsaoay, Vice President for Corporate Marketing Grace Magno, Regional HR Manager Lolibeth Esmana, Senior HR Manager Chloe Delos Santos-Chua, and Vice President for Business Planning and Operations Enablement Jerry Paul Manus
Healthy Pilipinas Awards for Partners
SM Cares and SM Supermalls were honored by the DOH at the concluded Healthy Pilipinas Awards for Partners. The ceremony was held last October 27 at the Philippine International Convention Center (PICC).
SM receives Gold and Bronze recognitions for its initiatives and programs geared toward sustainable and healthy living.
Celebrating success in promoting a healthier Philippines, SM Cares, the corporate social responsibility arm of SM Supermalls, earns Gold recognitions from the DOH for its impactful initiatives. The Bike-Friendly projects across all SM malls nationwide are committed to sustainable and active living. This includes the establishment of dedicated bike lanes, convenient bike parking facilities at nearly all SM malls, and thoughtful additions like bike repair racks. Meanwhile, the breastfeeding awareness recognizes its crucial role in infant and maternal health. While it is free to feed anywhere within SM premises, the campaign goes a step further with the provision of breastfeeding stations. These stations, available in 80 SM malls nationwide, create a supportive and comfortable environment for mothers to nurture their babies.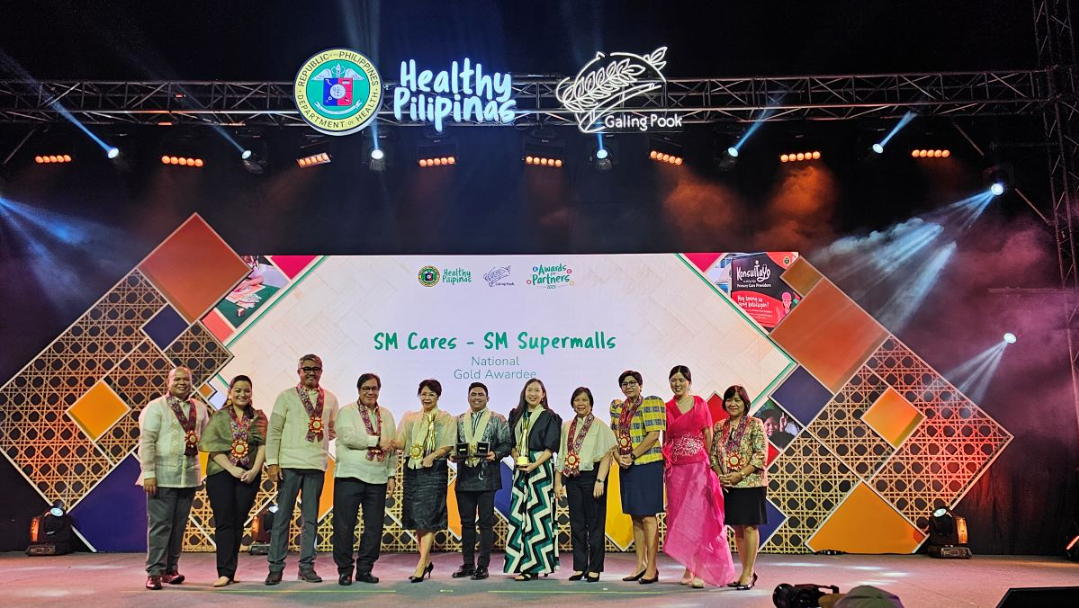 SM Cares' campaigns to promote Bike-Friendly Communities and Breastfeeding Awareness were each given Gold distinctions by the Department of Health.
The Healthy Pilipinas Awards, together with its partner Galing Pook Foundation, recognize citizen-led organizations that embody innovation, sustainability, and citizen empowerment and have made positive contributions to improving the quality of health, life, and well-being in their communities.
SM Supermalls was given the Bronze award for its comprehensive COVID-19 Vaccination Program, reaching 10.6 million jabs as part of nationwide immunization across 77 SM malls.
SM City Davao was also awarded Bronze specifically for its One-Stop Venue for Health initiatives targeting the communities in the southern part of Davao.
Dragons of Asia Awards
SM Supermalls took home two major awards at the 2023 Dragons of Asia Awards held last October 27, at the Eastin Hotel in Kuala Lumpur, Malaysia.
SM clinched the coveted Blue Dragon award for having the best campaign in the Philippines and another Silver Dragon under the Best Event or Experiential Marketing category for its captivating Christmas activations– SM Mall of Asia's "Night of Lights" and SM Megamall's "Mega Christmas In Space."
The winning campaign showcased the brand's commitment to connect with local communities and create memorable experiences for its shoppers. Both activations wowed visitors with immersive, interactive holiday displays, turning the malls into enchanting Christmas wonderlands not far away from home.
SM Mall of Asia's "Night of Lights" features larger-than-life Disney-themed installations.
SM Megamall's Mega Space Odyssey is Manila's inaugural 3D LED tunnel that invites enthusiasts to explore the universe without a rocket ship.
"These accolades reaffirm our commitment to fostering health, innovation, and excellence in our initiatives. At SM Supermalls, we dedicate these awards to our hardworking teams and the communities we serve, as we continue to strive for a healthier, more vibrant, and sustainable future," said SM Supermalls' President Steven Tan.
To know more about SM Supermalls, visit www.smsupermalls.com or follow @SMSupermalls on social media.