After countless date nights at home since March of last year, we'd bet you're ready to finally go out on a real date. And what better time to celebrate love with your S.O. than Valentine's Day, right? We all could use a romantic night out!
In case you need help planning for the big day (or if you're not really sure about your options outside), we suggest a safe, socially-distanced trip to SM Supermalls. Hear us out: SM Supermalls have more in them than shopping and dining options; they also offer a variety of fun activities you and your date can bond over. The best part? Each facility observes strict health protocols to help ensure that your safety isn't compromised within the premises.
Just check out these fun date ideas you can go for at the nearest SM Supermall near you:
Catch a movie at the cinema. It's probably been ages since you last watched a movie on the big screen. The good news is that you can relive the experience again as select SM Cinema will be opening their doors from February 12 to 14! These include those in the following branches:
As a bonus treat, SM Cinema will also have a Pick-a-Prize promo, which will entitle those who buy two movie tickets with the chance to win premium items. Snack Time will also be offering combo popcorn buckets and drinks at 50% off!
Worried about physical distancing? The cinemas will enforce a two-seat gap between moviegoers and a designated pick-up area at Snack Time. There will also be a limit in the number of people per restroom to ensure that customers will observe distancing protocols. All you need to do is show up with a face mask and a face shield!
Play bowling together. Playful competition never hurt a good relationship. Bust out your moves when you head to SM Bowling Center for their Strike Your Heart Out offer this February 12 to 14. Get the chance to win special prizes when you pay for two bowling games and get an automatic 50 percent discount on a round of billiards or table tennis! Participating bowling centers are in SM North Edsa, SM Megamall, SM Mall of Asia, SM City Clark, and SM CDO Downtown Premier.
For safety reasons, a limited number of people will only be allowed to play at a time, with an observed counter-clockwise rotation of players per lane to avoid contact as much as possible. Only one bowling bowl can be used by each guest as well. Additionally, bowling shoes will be sanitized before and after each use using a UV cabinet, while tables and counters will be sanitized every 30 minutes.
Go on a date at SkyRanch.
Open spaces, tons of attractions, and fun vibes? Yes, please! You and your partner will not run out of things to bond over at SkyRanch. For starters, SkyRanch Baguio will be hosting Love in the Air from February 12 to 14, which will let couples enjoy a cozy romantic dinner inside a gondola of the Baguio Eye. Each gondola will have a maximum capacity of two people so do expect ~intimacy~!
For those who miss the concert vibes, SkyRanch Tagaytay will be hosting a Sweet Serenade session from February 13 to 14. Foodies will be in for a treat as the park will also host an array of food stalls from February 12 to 14.
Both SkyRanch Baguio and SkyRanch Tagaytay will also offer free Valentine's treats to everyone who will be purchasing two admission tickets exclusively on V-Day. FYI though: Only 15- to 65-year-olds will be allowed entry to SkyRanch. A one-way traffic flow will also be observed within the vicinity.
Treat your partner to an alfresco dinner.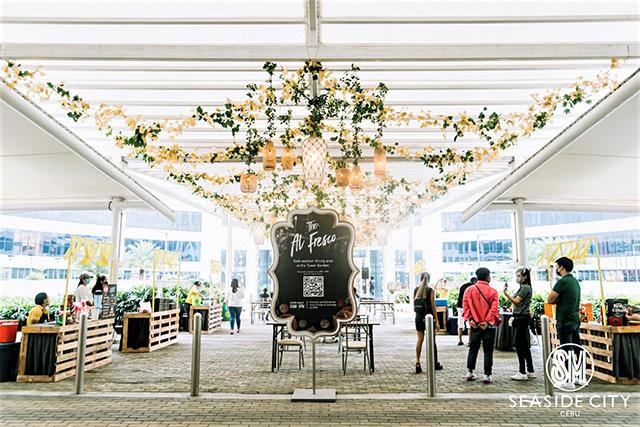 End on a high note when you cap the day with a romantic dinner. Those who prefer open dining spaces can have their pick of the alfresco setups in SM Supermalls. The well-spaced tables will not just ensure physical distancing, but also privacy and great souvenir photos. We recommend the following establishments:
Head out to SM Supermalls and (safely) enjoy a wonderful V-Day with your S.O. To learn more, follow SM Supermalls on Facebook and Instagram.
Source: https://www.spot.ph/things-to-do/weekend-guides/4-safe-ideas-for-a-romantic-valentines-day-outdoors-adv-con
Rate this article