Time to loosen up those belts: SM's Food Fest is here! Enjoy everything from ₱99 Merienda Mania deals to ₱599 Feast Treats at the SM Foodcourt, which has been transformed into a Fun Foodie Village just for you. Plus: Gear up for extra fun weekends with the gang at the StrEAT Food Festival, where you can get your fill of new dining gems and gastronomic treats!
Check out the yummy deals here or scroll down below:
40% OFF on the Big Group Promo at Vikings
Big group with a big appetite? Round up the squad and get up to 40% off for large group gatherings at Vikings, a.k.a. your no-fail buffet destination for every craving. Find Vikings branches here.
30% OFF Supreme Set Meal at Classic Savory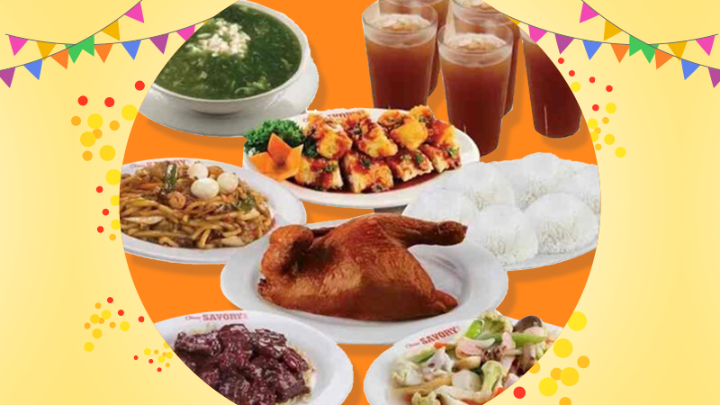 Kayang-kaya to treat the whole family to a lunch or dinner out with this irresistible offer! Their Supreme Set is good for up to six persons. Find Classic Savory branches here.
₱29 OFF on Crema De Leche Halo-Halo or get 3 pieces Empanada for ₱164 at Mang Inasal
Merienda, G? Cool down with Mang Inasal's super creamy halo-halo or enjoy their crunchy-chunky chicken empanada (or get both!)—all without hurting your wallet. Find Mang Inasal branches here.
Only ₱150! Pancit Luglug at Reyes Barbecue
Give into your pancit cravings and try the Reyes family's saucy Pancit Luglug, generously topped with shrimps, ground pork, tinapa flakes, chicharon, and more! Find Reyes Barbecue branches here.
Get the King Double Deal for only ₱129 at Burger King!
Two burgers for just ₱129? You better believe it. That's one Whopper Jr. and one Flame-Grilled Cheeseburger for you and your BFF (or just you, if you're super hungry!). Find Burger King branches here.
Grab 2 Pizzas for only ₱499 at Yellow Cab
Take your pick from Pepperoni, Hawaiian, Manhattan Meatlovers™, BBQ Chicken, or Garden Special for your first 9" pizza and get a 9" Cheese for your second pizza. Find Yellow Cab branches here.
Perfect for sharing: Meal Bundle for ₱349 at Kuya J
You're sure to be busog with Kuya J's hearty bundles, like this savory Sotanghon Guisado paired with two Halo-Halo Espesyal. Find Kuya J branches here.
Buy 1 Get 1 Shawarma at Persian Avenue
Get twice the meaty goodness (100% sirloin beef, FTW!) and walk away with two shawarma wraps for only ₱100. Find Persian Avenue branches here.
Coffee Combo for only ₱109 at Dunkin'
Whether it's for dessert or merienda, Dunkin's coffee-and-donut combo always hits the spot. Find Dunkin' branches here.
Celebrate all things aweSM and delicious at the SM Food Fest from September 1 to 30, 2023. For more dining offers, check out SM Deals and download the SM Malls Online app.
Follow SM Supermalls on Facebook, TikTok, Instagram, and X for more updates. You can check the updated entry guidelines and mall hours for 2023 here.